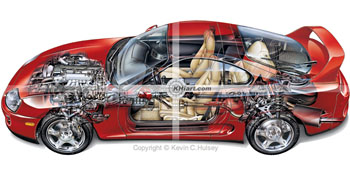 End User Illustration/Photo License Agreement
Overview of Terms and Conditions
This licensing agreement/contract is a legal agreement between you (and/or your company/client) and Kevin Hulsey Illustration, also known as "Kevin C. Hulsey," "khulsey.com," "automotive-stock-images.com," and "khiart.com," hereinafter referred to as "KHI" Please read and understand this entire agreement/contract BEFORE you license, or download any content from our web site, ftp server, or any other data storage or transmission media on which we might serve/deliver our content. If you do not agree to all of the following terms, do not download, or use our content. For this contract, the term "content" is defined as a single image, multiple images, artwork, drawings, illustrations, photographs, diagrams, composite images, animated images, or any other visual representation that KHI owns, has created, or is legally authorized to display and/or sell.
This licensing agreement affects you as an individual, as well as your employer(s), and any company or entity that you are representing or servicing. If you (as an individual) leave the company that has licensed our content, the company may continue to make use of the content pursuant to this agreement. You, however, may not make a copy of the content, or transfer the content to a new place of employment, or to your own company.
Permitted Usage of Image Content for Comp/Layout Only
All of the low-resolution images located on this website are for visual reference only, but may be downloaded from this website for use in a layout or "comp." The term "comp," as used in this licensing agreement, means a single design layout, or draft proposal that is intended for internal use only, or for internal presentation to a client as an idea/concept visual aid. The "comp," or any images contained within, may not be placed on a network server, website, or any other digital method of distribution.
Our content may not be displayed beyond this limited layout/comp use without first paying for a full usage license. Specifically, no comp image may be placed on a server for public distribution, or published in any way. Additionally, our content may not be used as an example for another artist/illustrator to follow in recreating our content in substantially the same manner.
Permitted Usage of Licensed Content
You, the licensee, may publish any licensed content pursuant to the specified usage terms and conditions stated in your usage-license invoice, and pursuant to the payment terms set forth below. The content may be licensed by only one company or individual, and that license may not be resold, relicensed, or transferred to any other company or individual.
Any use on your (the licensee's) behalf - i.e. sending, transferring or transmitting the images and/or digital image files to freelance designers, printing companies, website designers, ad publishers, etc. - is permitted under the license, as long as the end product is specifically created for the licensee's benefit. In these specific cases, the licensee will not be transferring the license (usage rights) of the images, only the physical file(s) in which they are contained.
For production and/or archiving purposes, digital high-resolution (layered or flat) copies of the content may only be accessed/served over a network if the maximum number of network users does not exceed ten (10) people within a single company, at a single location. The maximum number of archived high-resolution copies will not exceed ten (10). If additional users will need to have access to the original high-resolution file, or you will need to make copies of the original high-resolution file, you must contact KHI about a license upgrade prior to its distribution.
Restricted Usage
You may not lease, license or sub-license the content as an end-product when the content is not used, incorporated, or included within a specific design project. You cannot resell the content, or any modified version of the content directly.
You agree not to use the content in a defamatory context, or in conjunction with any other materials that may be deemed to be defamatory, either by altering the content, or by adding accompanying text and/or graphics that are defamatory.
KHI gives no rights or warranties with respect to the use of product names, trademarks, logos, registered designs, copyrighted designs, or other works that may be depicted/included in our content. You must use your own due diligence to insure that all necessary or required rights, consents or permissions are secured prior to publishing the content. You agree to hold KHI harmless from any and all claims and expenses arising from your use of our content.
Copyright of Content
The content contained on our web site, web server, other electronic media, or print media is copyrighted, registered with the U.S. Copyright Office in Washington, D.C., and/or protected by intellectual property laws of the United States, the Digital Millennium Copyright Act (DMCA), and the Berne Convention. The usage rights for any reproduction of this content must be licensed, purchased, and full payment must be received PRIOR to any publication. The use of our content is licensed, not sold, and the content remains the sole and exclusive property of KHI and/or Kevin C. Hulsey. You agree not to make, authorize or permit any use of any content until usage rights have been obtained, and payment has been received. Any content use without prior permission and payment is a violation of copyright law.
Compensation for Unauthorized Use
Because it may be difficult to determine actual damages resulting from any unauthorized usage, you agree to the following: 1) If you utilize our content beyond the scope which is stated on your usage-license invoice (i.e., duration, usage limitations, etc.), or you fail to make full payment for your usage prior to publication, you agree to pay, as liquidated damages, a sum equal to four (4) times our normal license fee, payable within ten (10) days of our billing notification. 2) If you fail to make this payment within ten (10) days of our billing notification, you acknowledge that the liquidated damage provision shall be void, and we shall have the right to sue for copyright infringement, for which we will not accept less than ten (10) times the normal license fee, plus attorney's fees and all associated costs.
Copyright Protection
Each reproduction or work in which KHI content appears, must be copyright protected. You agree to provide statutory copyright protection of the content by registering the work you created or the work in which the content appears in a timely manner. When the images are transmitted to a third party (i.e. freelance designer, printing company, website developer, production company etc,) the licensee must keep all copyright meta-data in the original digital file(s), or copies of the digital file(s), when transmitting them to a third party.
Any "editorial use" of the content must bear the copyright credit line "Copyright © Kevin Hulsey Illustration," or "Copyright © Kevin C. Hulsey," and KHI must be notified in advance of such use. Within this license, the term "editorial use" is defined as any newspaper article, magazine article, blog posting or television news segment which would not be considered as "advertising," and was not initiated by the licensee.
Payment Terms
No usage rights are granted, and no image downloading is permitted, until full payment has been received. Once your payment has been made by credit card, wire transfer, check, or PayPal, all usage license fees are non-refundable, regardless of actual use/non-use. Downloading of the content obligates you to all of the terms and conditions set forth in this agreement/contract. The minimum usage period is for one (1) year unless a license is purchased by print run. Any invoice for a usage license renewal must be paid within ten (10) days of its net due date, and/or prior to the publication of any content, or you will be subject to the "liquidated damages" provision stated above. In addition to any liquidated damages charges, you agree to pay KHI a service charge of 2% per month on any unpaid balance. Any disputes concerning the invoice must be submitted in writing within five (5) days of the invoice date, or you shall be deemed to have accepted the invoice, and its terms as issued.
Arbitration
Any and all disputes relating to this agreement, including its validity, interpretation, performance, breach or other matter, excluding copyright issues, shall be settled by arbitration in California pursuant to the rules of the American Arbitration Association. Judgment upon any award rendered may be entered in the highest court having jurisdiction. The Laws of the State of California shall govern the interpretation of this Agreement. You agree that the arbitrator(s) will have full authority to award arbitration costs including legal fees, plus legal interest on any award.
Legal Costs and Jurisdiction
In the event that either a court of competent jurisdiction directs us to go to court, or the matter involves copyright, you agree to fully reimburse KHI for its reasonable legal fees and disbursements if KHI is successful in the suit.
No Waiver, Complete Agreement
The terms set forth in this agreement/contract and your usage-license invoice shall represent our entire agreement concerning the delivery of any content to you, and your usage thereof. All prior understandings or representations, whether oral or written, based on "industry custom" or past dealings, are hereby merged in this agreement/contract. No terms or conditions may be added unless made in writing, and signed by all parties. No action of ours, other than an express written waiver, may be construed as a waiver of any part of this agreement/contract, and no employee is authorized to waive it orally. In the event we waive any specific part of this agreement, it does not mean we waive any other part.
UCC
The above terms are governed by Article 2 of the Uniform Commercial Code.
Licensing & Purchasing
For online purchasing see the Illustration Pricing or Photo Pricing pages.
All Images Copyright © 1994-2017 Kevin Hulsey, Kevin Hulsey Illustration (KHulsey.com), all rights reserved.